Call Us Today - 02920 791970
Charities
Charities spend their time helping and supporting other people and we are proud to do what we can to support them. Below are some of the charities we have either supported or worked with. If you would like to find out more about any of the charities shown on this page or if you would like to find out how you can help support them with their efforts then please do click on the links to their home page.
The British Legion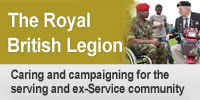 Royal British Legion safeguards the welfare, interests and memory of those who are serving or The British Legion help serving and ex-Service personnel and their families. Not just those who fought in the two World Wars, but also those involved in the many conflicts since 1945 and those still fighting today. They provide welfare services, campaign on a range of issues affecting Service people, are custodians of Remembrance, raise funds through the annual Poppy Appeal and are also a membership organisation. If you would like to donate to this extremely worthwhile cause then

please click here

or contact the directly on 08457 725 725
Help for Heroes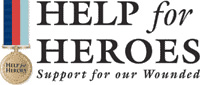 Founded by Bryn and Emma Parry after a profoundly moving visit to Selly Oak Hospital in the summer of 2007. Bryn and Emma met some extraordinarily brave young people who had been badly wounded and they just wanted to do something to help. Help for Heros raises money to support members of the Armed Force who have been wounded in the service of their country. To find out more please do let me know. If you would like to find out more about this fantastic charity then

please click here

.